Bitcoin Craps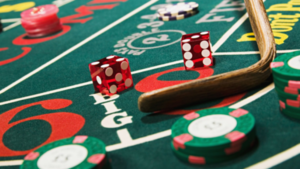 The craps table is usually one of the most exciting spots in a brick-and-mortar casino. You may have seen it in person or in movies: crowds of people standing clustered together as they watch players roll their dice, enjoying the fast pace and the energetic atmosphere.
Bitcoin craps sites allow you to play the game from the comfort of your own home using this leading cryptocurrency, with some added benefits over traditional payment methods. Read on for coincasinos.co.uk's guide to bitcoin craps. We will guide you from the reasons to play craps with bitcoins to how to play craps with bitcoins. We will also list the top rated bitcoin craps sites alongside with basic craps rules and strategies.
Why Play Craps with Bitcoins?
There are numerous reasons to play craps with bitcoins, beside the obvious thrills and excitement the game itself has to offer. Playing bitcoin craps provides more privacy than at standard online casinos. For example, at other virtual venues, you may well be asked to provide complete personal details when you register, such as your name, address, phone number, and more. Bitcoin casinos will usually just ask for your email address and country.
Bitcoin craps affords you quicker processing times than you may expect if you're used to spending traditional money. In some cases, other casinos ask you to wait hours or even days before you can get your winnings. With bitcoin casinos, you will rarely need to wait more than one hour to receive the money (it's typically far less).
Transaction fees can be a real frustration when playing at online casinos, but bitcoin craps tends to be free of this. There are usually no charges to withdraw funds via bitcoin, though certain wallets may take a tiny commission to compensate miners working through the blockchain. The end result? You get more of your money!
How to Play Craps with Bitcoin?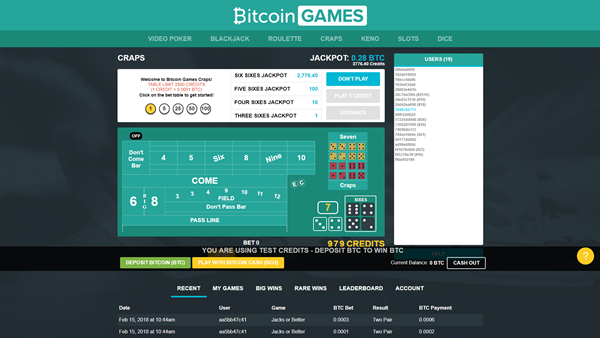 Craps is a simple game to play, which makes it ideal for first-timers looking for a quick, easy gambling experience. This is part of the reason craps has proven so popular as a street game in the past, requiring little equipment or formality.
The game simply involves one player (the 'shooter') rolling two dice, while making a bet on the craps table. Multiple rounds are involved in an average game, and other players at the table are invited to gamble on the outcome they expect to see.
Playing bitcoin craps online is much the same as playing the game at any other online casino, save for the advantages mentioned above. You will have to create an account with a bitcoin wallet and register with the casino you wish to use, which may only require a few basic details. Once you have this in place, you can start transferring bitcoins into your casino account and gamble on craps.
Top Bitcoin Craps Sites
At coincasinos.co.uk, we're dedicated to helping you find the best bitcoin craps sites for your money, ensuring you get the most out of your gambling time.
We have compiled a list of the best bitcoin craps sites below, so check them out and start playing!
Craps Rules and Strategies
We've touched on the object of craps above, but what are the rules?
Rule 1: The shooter (the player rolling the dice) has to make a Pass Line wager, either on the Pass or Don't Pass line.
Rule 2: The shooter has to start the game's first round by rolling the dice (known as the 'come-out' roll) off the wall at the opposite end of the table.
Rule 3: If the come-out roll totals a 7 or an 11, this means a Pass bet wins. The round will end in this case.
Rule 4: A come-out roll totalling 2, 3, or 12 leads to craps, and the Don't Pass line bet wins.
Rule 5: Should the come-out roll equal 4, 5, 6, 8, 9, or 10, the player will receive points to that value. A puck is then placed on the number on the table, and the shooter rolls again until they achieve a 7 (which would leave Pass Line betters as the winner). If they get a roll corresponding to the point number, Pass Line backers win.
Looking for some strategies to try with bitcoin craps?
Strategy 1: Pass Line bets are the best option for come-out rolls. This gives you the strongest advantage over the house, leaving you with a potential payout on either a 7, 11, or any other that isn't a 2, 3, or 12.
Strategy 2: When the shooter in play has gained a point, other players at the virtual table will have a chance to make an additional odds bet (with no house edge). Take a chance on this, and a win will be more lucrative without any going to the casino.
Strategy 3: Avoid making Big 6 and Big 8 bets, as these usually carry high house edges. Come 6 or 8 are typically far, far lower.
Intrigued by online craps? You can learn more about playing classic games with bitcoin elsewhere on coincasinos.co.uk – so feel free to explore!