South Park Slot
South Park is over 20 years old now, and still going strong. Fans around the world still tune in to see the gang's adventures – and this NetEnt slot game captures the show's spirit brilliantly.
The visuals are stunning, with characters resembling their counterparts on the show perfectly. The symbols include Cartman, Kenny, Stan, Kyle, face card values (King, Ace, Jack, Queen), and Wilds, all colourful and dynamic. The background behind the reels is suitably snowy, featuring the iconic white-tipped mountains and trees; this helps to pull you right into the spirit of South Park, and is ideal for dedicated fans.
There are 25 paylines and five reels, with a maximum of 10 coins per line. The RTP is 96.7%, which is a little bit lower than some of the other slot games developed by NetEnt. However, South Park is such a fun gaming experience that winning money might just be the icing on the cake.
South Park Slot Rules and Bonus
You can play South Park with bitcoin to make your gambling go further too, with lower fees and quicker processing. One of the most impressive elements of NetEnt's South Park slot game is the bonus rounds. These function as interactive mini-games, and there is one for each of the four main characters. In order to activate them, you will need to get two bonus symbols and one special character bonus lined up.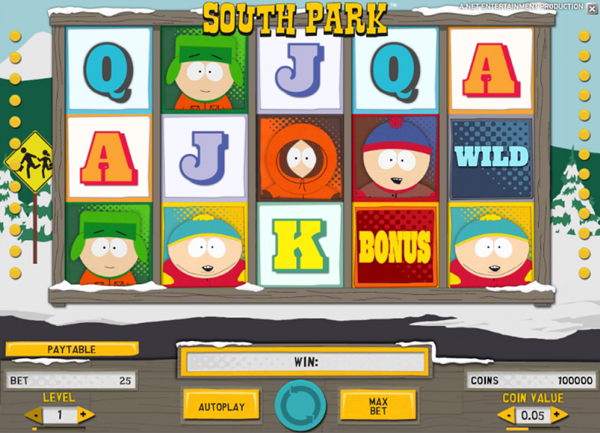 Cartman's bonus game requires you to find hippies hiding in bushes, before spraying them with a fire extinguisher strapped to Cartman's back; you get points for each hippie you find. This is introduced with a funny animated clip, featuring full voice acting, while the bonus round itself looks like a high-quality video game.
Another bonus game sees you having to guide Kenny along one of South Park's roads, collecting coins without letting him get killed (as has happened so many times before). Three question marks appear on the road ahead of Kenny. If you choose the right one, you'll receive a generous helping of coins. Pick the wrong one, and Kenny will be killed in a gruesome fashion, such as a plane crashing from the sky to land on his head, or an enormous bird swooping down to grab him.
Stan's bonus round involves Sticky Wilds and constant reel spins while Stan vomits into Wendy's face (of course). Kyle's bonus revolves around the unforgettable 'kick the baby' game he loves to play with Ike, his baby brother.
These bonus rounds are fantastic additions to the South Part slot game, and are some of the most impressive touches we've seen. They really add to the experience, and mean that even South Park fans who have never tried gambling with online slots will be tempted to give it a try too.
The slot game's presentation is stunning, and similar in layout to other NetEnt creations. You start the reels spinning by clicking the circular button in the centre of the control panel, and adjust your wagers by clicking the buttons on either side of the 'coin value' metre. The 'max bet' button, though, will take your wager to the highest amount available. Everything you need to play the South Park slot is right in front of you.
You can play NetEnt's South Park game at a number of casinos, and we have all the essential information on the best websites right here at coincasinos.co.uk!