Starburst Slot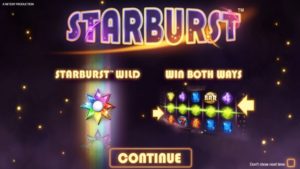 Starburst is one of today's most popular slot games, appearing at countless online casinos. Not only does it benefit from colourful, polished visuals, it's incredibly simple to play too, thanks to the clean presentation and layout.
The game includes 10 paylines and five reels, with a maximum of 10 coins on each line. It offers an RTP of 96.1%, and if you play Starburst with bitcoin, you can enjoy faster processing times.
Starburst is developed by NetEnt, a leading software company with a slew of games across the online gaming industry. They're known for their high-quality graphics and smooth performance – and Starburst is a shining example of their finest work.
Starburst Slot Rules and Bonus
The game is just stunning to look at, courtesy of the dynamic purple background and striking symbols in assorted colours. You will be trying to match up gems of different shapes and tones, incorporating gleaming sapphires and diamonds, alongside the Starburst Wild symbol itself.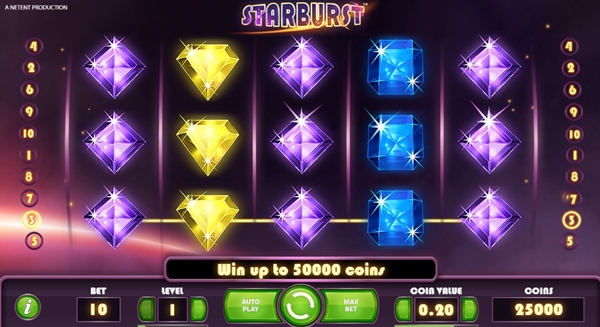 Classic symbols, such as the vintage 'Bar' and '7', appear on the reels too, Matching three or more symbols will scoop you a win.
Music plays while you spin the reels, a soothing but fairly dramatic score that makes the game even more immerisve. The music accelerates and becomes more upbeat when you match a combination of symbols or get three Wilds.
The Starburst Wild is triggered when one or more of them appear across the reels, and they expand to cover the respective reel. They will stay fixed in place, as the surrounding reels continue to spin again; if a new Wild appears, this expands too, remaining alongside any other Starbursts triggered.
Once no new Wild symbols can be found, this round comes to an end.
Starburst's layout is fairly simple and familiar, if you have played slots developed by NetEnt before. You spin the reels by clicking on the circular button at the centre of the control bar, and you can set them to spin automatically using the 'auto play' button beside the latter.
On the other side, the 'max bet' lets you maximise your wager instantly. Be careful that you don't start spinning if you click this button by accident, which may happen given that it's placed beside the 'spin' trigger.
You can play Starburst with bitcoin at numerous websites, simply by setting your bitcoin wallet up and transferring funds to the casino's account. You can bet on Starburst with bitcoins just as you would any other form of currency, though making withdrawals typically incurs a lower charge – unless it's free altogether.
You can adjust your bet level by clicking to the left or right buttons flanking the 'level' meter, which increases or decreases the size of your bet. Your coin value is easily adjustable, simply by clicking on the buttons on either side of the 'coin value' meter. Last but not least, your total coins remaining are displayed on the far right side of the control bar.
Starburst is a lot of fun to play, on desktop and mobile devices. Want to give it a try? You can find out which bitcoin casinos are worth your time and money right here on coincasinos.co.uk!