Iconic Snooker Star Ronnie O'Sullivan Attends Bitcoin Cash Party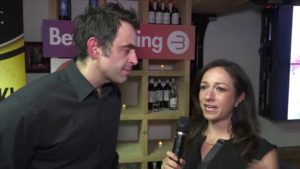 Famed snooker maestro Ronnie 'The Rocket' O'Sullivan attended a recent party to celebrate Bitcoin Cash.
The event was hosted by CoinPoint (an agency specialising in cryptocurrencies and blockchains), and several other prominent figures from the gaming industry were present. Dr. Craig Wright, chief scientist at nChain Group (working in the research and development of blockchains) was just one.
Almost 200 individuals joined the party, helping to celebrate Bitcoin Cash on a grand scale.
The evening revolved around many of the familiar elements expected of a party – music, drinks, dancing – as well as a special prize-giving when O'Sullivan awarded a signed cue to a lucky winner (courtesy of BetterBetting ICO).
Celebrating Bitcoin Cash
The party was sponsored by Bitcoin.com, and sought to celebrate Bitcoin Cash as a groundbreaking way to ensure safer, faster, more reliable financial transactions around the world. Bitcoin Cash is considered the 'true remaining' form of Bitcoin by some, believing it to be the purest type of Bitcoin as its anonymous creator intended.
Bitcoin.com is passionate about helping to increase awareness of Bitcoin Cash, and to show that it is the superior version of the iconic cryptocurrency. Bitcoin Cash offers a bigger blocksize (8mb versus the original 1mb, though patches have offered bigger sizes), which enables miners to make more payment processes per second for greater productivity.
Bitcoin Cash was established to recapture some of the original, core values in the first Bitcoin software. As Bitcoin Core evolved and was employed by countless individuals and groups, some believe its transaction times and fees are not what they should be.
Bitcoin Cash is not a clone of Bitcoin Core, nor is it an altcoin: it is a fork of the original Bitcoin. It uses the same transaction ledger as Bitcoin Core, and is true to the Core codebase.
With Ronnie O'Sullivan in attendance, the Bitcoin Cash party has helped to bring more attention to Bitcoin Cash, generating greater interest. Bitcoin users may have their own opinions on Bitcoin Core versus Bitcoin Cash, but the important thing is that a choice now exists – offering something for everyone.
Tagged with: Bitcoin Cash • Bitcoin Casino News • Bitcoin.com • CoinPoint • Ronnie O'Sullivan