Satoshi's Secret Slot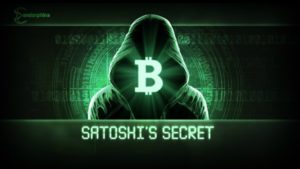 Satoshi's Secret is a fast-paced, fun slot game with a terrific concept and slick visuals. You can play this using bitcoins for faster transactions and lower fees. Satoshi's Secret is a fun slot game develeoped by Endorphina.
The name comes from Satoshi Nakamoto, the enigmatic creator of bitcoin. He, she, or they remains one of the most influential figures in the world of cryptocurrencies, but remains anonymous, which helps to make the very concept of bitcoin even more intriguing.
It's fitting, then, that Satoshi's Secret is based entirely around the concept of bitcoin, and does away with more traditional slot symbols for bitcoin- and currency-themed ones instead. There's an air of mystery and hacking-culture in the slot's design, with a hooded figure and a high-tech-computing style; the heavy emphasis on the neon-green glow is fairly reminiscent of The Matrix.
Satoshi's Secret Slot Rules and Bonus
The game runs across 6 reels, and has 20 paylines. The symbols themselves include letters and characters (arranged like a QWERTY keyboard), with those representing bitcoin, GBP, and EUR appearing too. Matches are indicated through a single line that rises and falls across the screen, another unusual element to the design.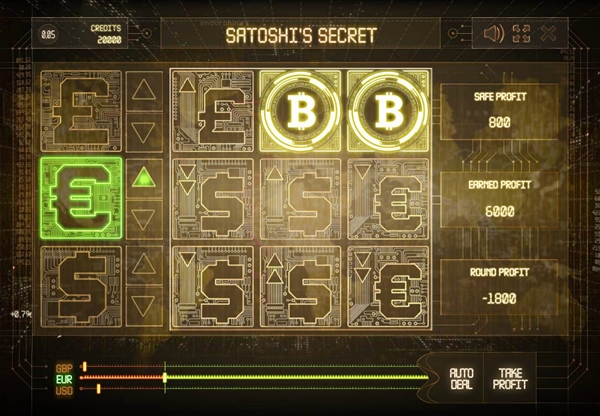 You can set the reels spinning by clicking the 'spin' button or any symbol. Alternatively, you may click on the 'auto' button to keep the reels spinning without being interrupted.
There are two creative bonus games included in Satoshi's Secret, both of which enable you to try for different prizes. One bonus game is activated by matching the proper combination of 'B' symbols, which takes you through to a trading-style screen. You're asked to bet on whether you think a certain currency will rise or fall, and the game then unfolds with profits increasing or decreasing. You can take your profit at any time – but you never know how well you might do if you cashout too early.
The QWERTY bonus game is triggered when these symbols match up on the six reels, from left to right, and creates the scenario of hacking a bank. There are multiple levels to hack, each varying in difficulty, and the game ends when a security alarm sounds; you'll be taken back to the base game straight away.
During the standard game, you can choose to 'take win' or 'take risk'. If you click on the latter, you will be taken to a new screen, featuring a set of cards. One is presented face up, and another four are dealt face down. You have to click on one of these, and if the amount is higher than the one show, you will win; if your card is lower, you're returned to the core game itself.
You can adjust the size of your bet by clicking on the 'bet' button at the bottom of the screen, or you can tweak the 'total bet' by choosing the relevant button. It's a slick, user-friendly interface that helps to make Satoshi's Secret a quick, fun game to play. Once you add bitcoin funds to your casino account, this dynamic slot game will provide hours of outstanding gambling entertainment.
The unconventional design, symbols, and hacking / currency-themed design all help to make Satoshi's Secret feel unique. We've seen a lot of slot games here at coincasinos.co.uk, but we've never played one quite like this before.
You can find Satoshi's Secret at numerous bitcoin casinos – read see the top rated bitcoin casino of coincasinos.co.uk below.