Twin Spin Slot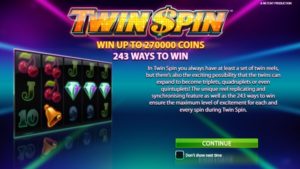 Twin Spin is another high-quality slot game from NetEnt, one of the top names in the online casino industry However, unlike their other releases – or those of other developers – Twin Spin features a staggering 243 paylines.
This is far, far more than those found at other slot games, where paylines tend to number between 10 and 20. This lends Twin Spin a fantastically unique touch, but is more than a gimmick.
Two of its five reels are linked with every spin, both landing identical symbols, increasing your chances of winning. This doesn't affect the actual process of playing to any great degree: you simply click the circular button in the centre of the control panel underneath the reels.
The reels will spin as usual, but there is no standard free spin bonus game: instead, you need to combine three, four, or even five of the reels to boost your winnings significantly. A maximum of 10 coins may be placed on each line, and the RTP is 96.6%.
As many as 270,000 coins can be won if you manage to get the luckiest result. Meanwhile, when five diamond symbols show on any active payline, you will be awarded a 1000 coin jackpot.
Twin Spin Slot Rules and Bonus
You can play Twin Spin with bitcoin, to take advantage of smaller transaction fees and shorter processing periods for winnings. You can place bitcoin bets as you would with standard currencies, raising or lowering your coin value by using the left / right buttons below the reels. It's quick and easy, for even the most inexperienced player.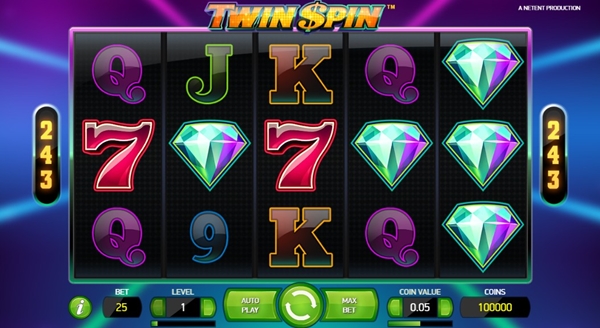 Twin Spin's layout is similar to other NetEnt games, with an adjustable level meter flanked by buttons used to increase or decrease your bet size. Another meter allows you to tweak the value of your coins, while displays beneath these show how much you have left to spend, your bet amount, and your winnings so far.
The game has the look and feel of a traditional slot machine game, most obviously in its symbols: Aces, Kings, Queens, Jacks, and numbers all appear on the reels. Fruits, bells, Bar, and diamonds play their part too.
Twin Spin bears all the visual flair and polished performance you would expect of NetEnt's developing skills. The overall presentation is vibrant and colourful, popping out of screens of any size (whether you're playing on a desktop or mobile device). The reels sit against a dazzling blue background, and the extravagant yellow logo brings even more power to the design. It's a real pleasure to play, and the massive potential payout adds real incentive to keep playing.
The gameplay is accompanied by a slick, laid-back jazz track which evokes images of classic land-based casinos, keeping the overall atmosphere relaxed.
You can play Twin Spin with bitcoin at a number of online bitcoin casinos. At coincasinos.co.uk, we have details on all of the major bitcoin gambling websites, and are dedicated to helping you find the best ones for your time (and money). Explore the rest of our reviews and articles to discover everything you need to know!