Bitsler is an unusual casino, offering an entirely different set of games compared to the majority of online casinos. It was launched in November 2015, and is available to members all over the world. Bitsler is licensed in Curacao under the company name Oyine NV. Bitsler stipulates that people residing in countries where gambling is illegal should refrain from signing up.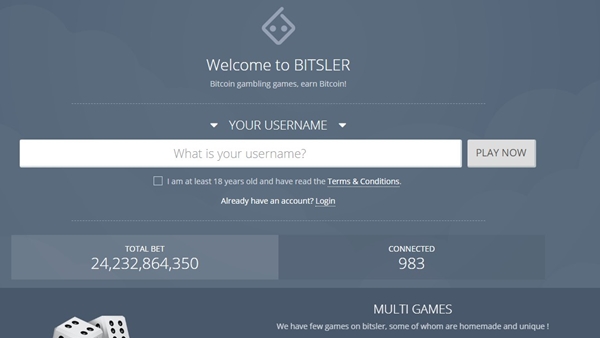 There are no slots with high production values based on blockbuster movies or colourful characters. There are no live-dealer games with glamorous hosts.
Instead, Bitsler presents you with four choices – Dice, Roulette, Multicolor, and Caray Cruz. Each game has its own unique design and layout, though are all very simple in their presentation. The interface allows you to enter your wager amount, adjust the playing specifications, and start within just a few clicks.
It's an entirely different gambling experience than the slicker alternatives you might be more familiar with if you're no stranger to online casinos, but it delivers straightforward gameplay without gimmicks or flashy visuals. All that matters is trying your luck and aiming to win.
The entire presentation is simple and understated, with plenty of information on hand to help you keep track of your performance in the 'stats' section. A chat window is visible at all times, displaying messages written by other players to create a communal feel amongst members. It's a nice feature that cultivates a social atmosphere.
A scoreboard is visible at all times too, with recent winners and their payouts listed for everyone to browse. Bitsler uses a provably fair system to provide peace of mind and confirm that all results are genuinely random.
Bitsler Signup and Membership

One of Bitsler's most impressive aspects is its sign-up process. This is quick and simple, ideal for cryptocurrency-users who want to remain anonymous as possible.
When you first arrive at the site, you will be invited to create a username and complete a Captcha. That's it. Once you have done this, you will be given full access to Bitsler's games and services, and you will find the community on the live chat window very welcoming. You are prompted to create a unique password before you can make deposits and withdrawals. This is a simple security procedure, and you will still be able to enjoy your privacy.
Bitsler has a 'security account' feature which tracks the safety of your account and recommends steps to improve it. When you first sign up with your basic username, your account's security level will be 'very low', but you can enhance this by creating your password, adding your email address, getting security access by email, and establishing two-factor authentication. This is a great feature that lets you choose which security processes you use to safeguard your account.
Bitsler Deposits and Withdrawals

To make a deposit or withdrawal, you need to click on the 'deposit' option in the menu at the side of the page. This will prompt you to create a password if you haven't already, before presenting you with a Bitcoin address or an option for a QR code.
If you don't want to pay with Bitcoin, you can click on the 'pay with altcoins' button. A pop-up window will appear, giving you the option to pay with other cryptocurrencies. To withdraw, click on the 'withdraw' option. You should enter your BTC address and amount in the menu which appears, and confirm. It appears you can only withdraw via Bitcoin at present.
Available Cryptocurrencies

Bitsler accepts the major cryptocurrencies available: Bitcoin, Ethereum, Litecoin, Bitcoin, Monero, Dogecoin, Dash, Zcash, Ethereum Classic, and Burst.
Bitsler Bonus Offers
Bitsler has a number of bonus offers for members. One is their faucet, which gives you extra credit as many as 15 times each day for newcomers. Players who earn the Legend status can claim faucet freebies as many times as they want in a day.
You can increase your level by gaining experience points, achieved by reaching specific thresholds of experience by gambling coins and being active in the chat system. The higher your level, the more faucet freebies you will access.
Other bonuses available are chat quizzes, double deposit, lucky roll, giveaways on Twitter, Bitcointalk contests, and Facebook giveaways. These are activated at different times and provide decent incentive to stick with the site.
Verdict
Bistler may not have games from the biggest developers, but its four games are well-designed and easy to use. The simple registration and optional security features let Bitcoin users effectively decide their own level of privacy, and the strong community feel is a unique touch.
---