SatoshiDice Makes 100 BCH Donation to Non-profit Fund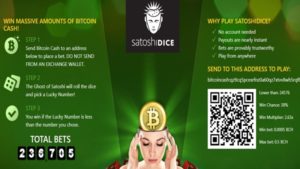 SatoshiDice, a blockchain betting game launched by Erik Voorhees in 2012, has made a generous 100 BCH donation to the non-profit, Bitcoin Cash Fund.
Bitcoin Cash has managed to become more popular since it was created in August 2017. It is a fork of Bitcoin Core, which many Bitcoin users believe has become an inferior version of the cryptocurrency first conceived by Satoshi many years ago.
However, it is still a smaller presence on the cryptocurrency market than Bitcoin Core, and SatoshiDice clearly wants to see it receive a boost.
A common goal
Their donation came about following a Reddit push to raise major donations for the non-profit group, which has an aim to increase Bitcoin Cash's user-base to one billion in five years.
One Reddit user pledged to match every donation made to the Bitcoin Cash Fund (to a maximum of 300 BCH) within a 48 hour space. Other supporters of Bitcoin Cash have donated hundreds of thousands of dollars' worth to the cause – donations reached $250,000 within eight hours of the challenge being announced.
SatoshiDice was just one, donating 100 BCH tokens to the fund. SatoshiDice's Voorhees was CEO of Shapeshift (a cryptocurrency exchange) when he launched the site, but he sold SatoshiDice in July 2013. Though the buyer remains anonymous, the price paid was 126, 315 BTC, which was worth a staggering $12.4 million at the transaction's time.
SatoshiDice was Bitcoin only, but it has moved to accepting payments only through Bitcoin Cash instead. The site's owners have described Bitcoin Cash as being the truest incarnation of Satoshi's plans for a peer-to-peer digital monetary network.
SatoshiDice is a betting game, in which a transaction is made to a single static address created by the site. Each one has a different payout, and the a 'dice' is rolled to finalise an outcome. If the number if smaller than the player's, the player wins and their reward will be multiplied by that factor. If it is bigger, the player is at a loss, with the bet multiplied by just 0.0005.
The donations will presumably continue to come in, and it looks likely that the Bitcoin Cash Fund will get some way towards achieving its goal even if it doesn't reach the one billion mark.
Tagged with: Bitcoin Cash • Bitcoin Casino News • SatoshiDice